Decorative Pergola with Shade Lattice
The Aria Pergola provides partial shade in a stunning backyard decoration. Using all extruded aircraft-grade aluminum alloy with a tough, attractive powder coat finish, we engineered the Aria to provide quick-install, low-maintenance shade. The Aria even includes an adjustable shade lattice so you can decide how much sunlight you would like to pass through – from a bright 90 percent to a cool 40 percent.
Why You'll Love the Moderna Patio Cover
The Moderno Patio Cover was designed with one simple goal in mind: to provide your friends and family an architecturally beautiful space to enjoy the great outdoors while keeping the sometimes not-so-great weather at bay.

Aircraft grade powder-coated extruded aluminum can stand the test of time while remaining beautiful and requiring little to no maintenance. High carbon steel and nylon headed fasteners withstand the worst nature can throw at them, and automotive grade nylon covers and caps create a smooth and complete appearance designed to live in the sun.
Designed and engineered for the extremes of Miami-Dade county wind zone, Colorado snow loads, and Texas summer sun. You can build a Renaissance Patio anywhere in the country with confidence. Our network of independent installers know the local codes and will custom design a space to fit the local weather and building code requirements.

Baked-on powder coat finishes on all of our extruded aluminum profiles are the very best in durable and maintenance-free coatings that require no more maintenance than a wash now and then.

You dream of a place to retreat from the world, and we want to make that dream come true. All Renaissance Patios are designed to be built quickly and affordably, this is only possible due to smart design and efficient manufacturing. The use of modern materials means you spend time enjoying your patio, not painting, staining, washing, and maintaining it.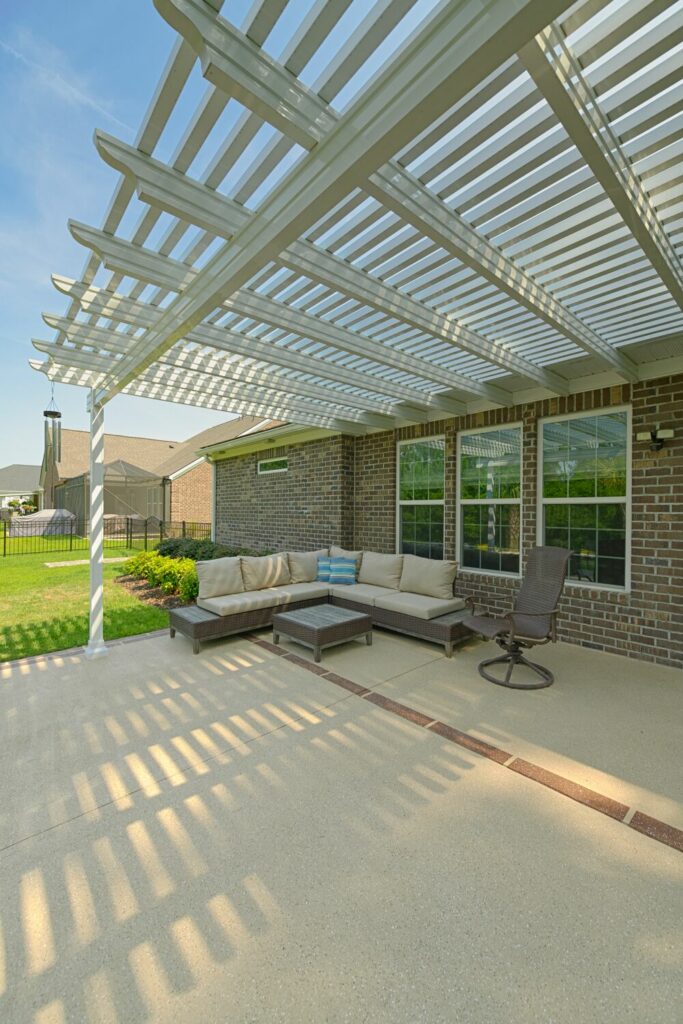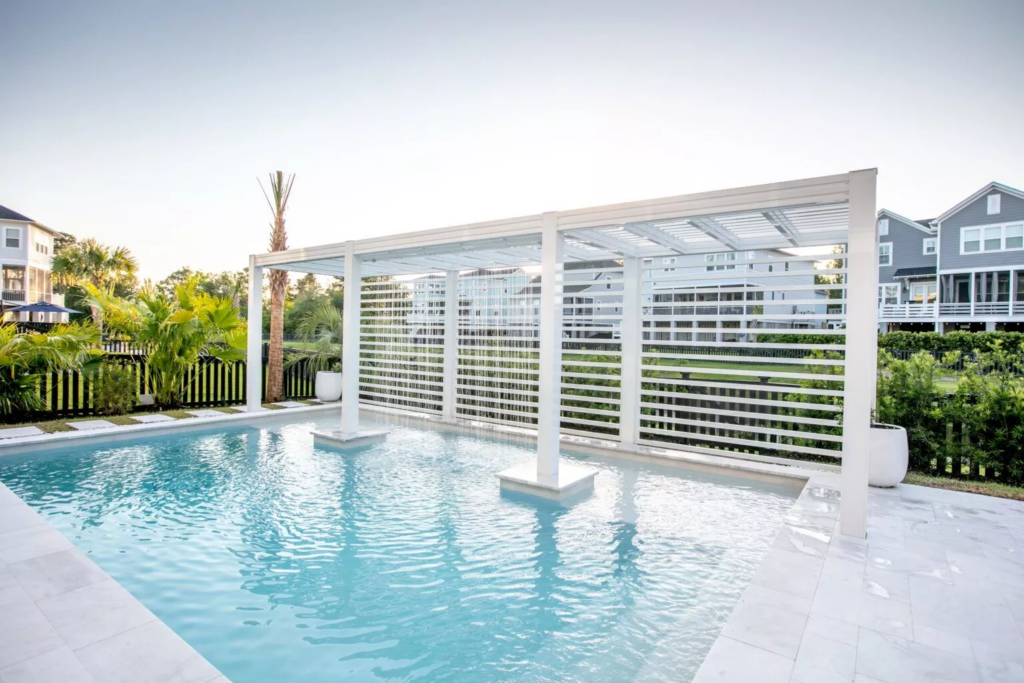 The Aria shade trellis was designed from the ground up to serve two purposes. First, to be a stunning work of art in your backyard, and second, to provide shade so you can enjoy the outdoors all season long. The Aria shade trellis, although it looks similar to a wooden shade trellis, incorporates nothing but the highest quality materials. Aircraft-grade extruded aluminum beams, baked-on finishes, nylon head fasteners, decorative post covers, and of course, the highest strength engineered connections to insure your new shade trellis can stand the test of time. Compare the Aria to any system on the market and we think you will agree, nothing beats the clean lines, and stunning look and feel, with high-strength, worry-free materials. Thankfully, the answer is now yes, at least when it comes to your patio roof. Available with or without screen walls.
You decided that the Aria is right for you. Discover how to increase the appeal and comfort of your patio space with these features.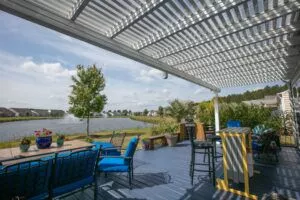 Your structure can be attached to your home to create the ideal patio space, or engineered to be completely freestanding anywhere in your yard. Our local installers can build your Aria behind your pool, near your garden, or overlooking a lake or woodlot. The freestanding version of the Aria is an ideal space for an outdoor kitchen, wet bar, seating area, or open game space. The options are endless.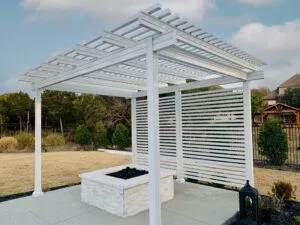 You can install a full privacy wall made from the same shade tubes as Aria's roof on any side of the structure. These strong walls can support mounted TV's, lights, and even fans while focusing the view inside, not on your neighbors' house.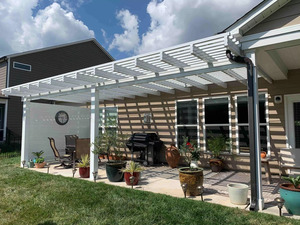 You can choose to have a traditional pergola look, installing Aria's with a truss on top of the main beam, or the modern look of our "Flush Truss" system to keep your pergola low profile.
The Pros and Cons of the Aria Patio Cover
Everything in life has its ups and downs, pros and cons, and the Aria is no exception.
Yes, all of our patios are engineered to meet or exceed your local building code.
All of our structures are engineered to withstand up to 175 mph winds.
Low-pressure water gentle soap such as dish soap or car /automotive soap, feel free to use a towel to remove stains. For more information see our blog:
How do I clean my patio?
First off, a patio cover can look like a pergola and a pergola can also cover your patio. When people refer to a "pergola" our customers typically tell us they are looking for a specific design style. A pergola will have exposed trusses, curved cuts on the end of the trusses and will include either a shade lattice to partially block the sun or a solid cover to fully block the sun and keep out the rain. A patio cover always has a solid top, but when it comes to Renaissance can also have the look of a pergola.
Yes, all of our products carry a lifetime warranty. Your independent may also offer a warranty, so don't forget to bring that out with your installer.
Renaissance Warranty Certificate
That's simple… Design. Renaissance was born with design in mind, our products look better, are stronger, and represent a better addition to your home.
Renaissance Patio connects you with up to three local preferred installers to prepare an estimate for your project.
What is the location of your project?