Decorative Solid Roof Patio Cover with Truss Ends
The Contempo Patio Cover is built especially for homeowners who want it all: strength, durability, style, and affordability. By building on the same framework as our other Patio Covers, the Contempo strikes a balance between the fully framed patio roof such as our Classico line, and the elegant simplicity of the Moderno.
Why You'll Love the Moderna Patio Cover
The Moderno Patio Cover was designed with one simple goal in mind: to provide your friends and family an architecturally beautiful space to enjoy the great outdoors while keeping the sometimes not-so-great weather at bay.

Aircraft grade powder-coated extruded aluminum can stand the test of time while remaining beautiful and requiring little to no maintenance. High carbon steel and nylon headed fasteners withstand the worst nature can throw at them, and automotive grade nylon covers and caps create a smooth and complete appearance designed to live in the sun.
Designed and engineered for the extremes of Miami-Dade county wind zone, Colorado snow loads, and Texas summer sun. You can build a Renaissance Patio anywhere in the country with confidence. Our network of independent installers know the local codes and will custom design a space to fit the local weather and building code requirements.

Baked-on powder coat finishes on all of our extruded aluminum profiles are the very best in durable and maintenance-free coatings that require no more maintenance than a wash now and then.

You dream of a place to retreat from the world, and we want to make that dream come true. All Renaissance Patios are designed to be built quickly and affordably, this is only possible due to smart design and efficient manufacturing. The use of modern materials means you spend time enjoying your patio, not painting, staining, washing, and maintaining it.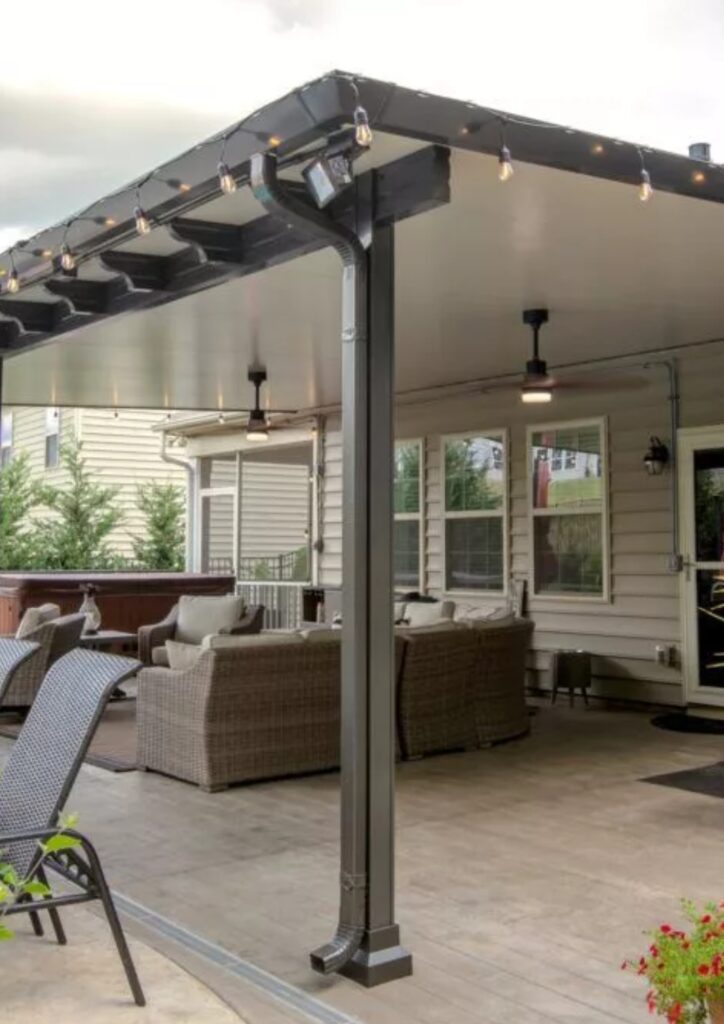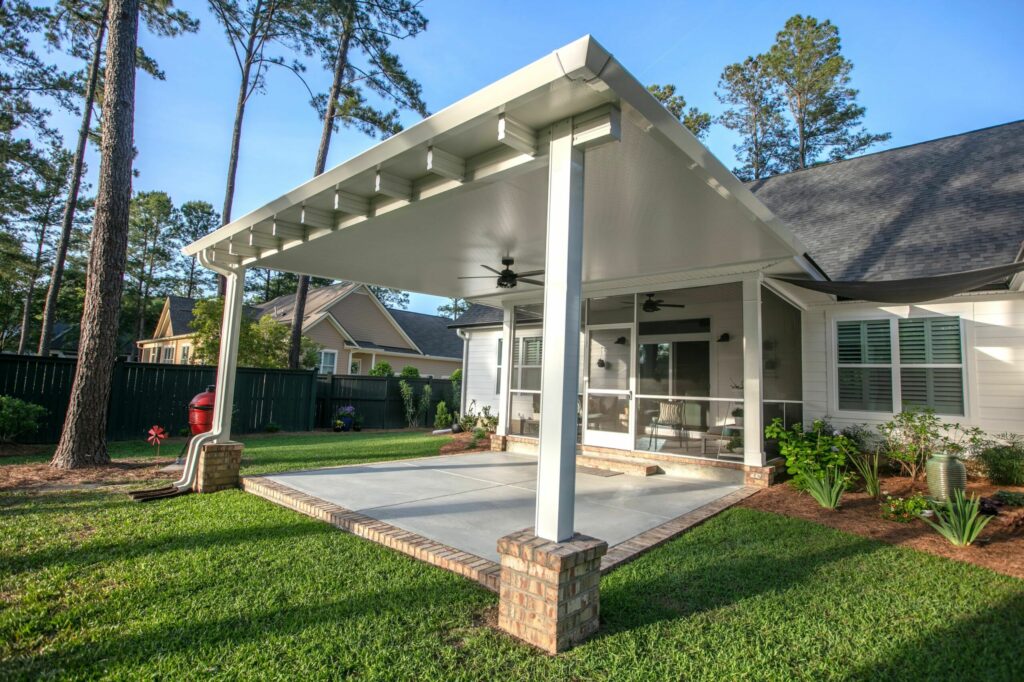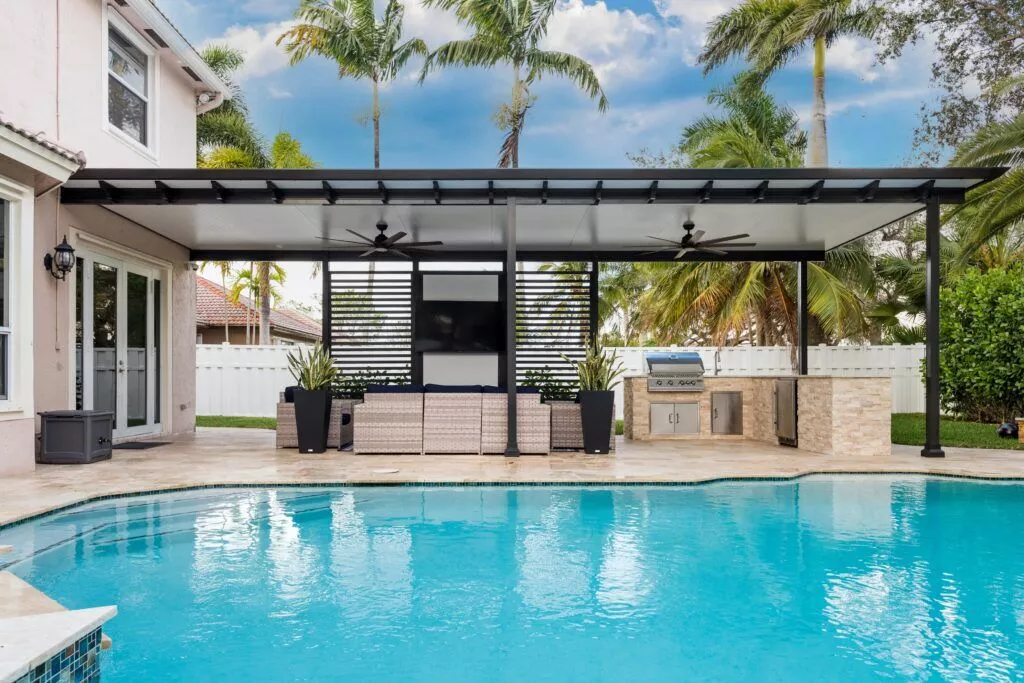 Wood framed look, aluminum simplicity, and a price you will love means your patio can be both decorative and practical. Taking our Moderno Patio Roof, and adding decorative aluminum truss ends provides that extra touch that most patios are missing. The Contempo Patio Roof features all of our signature designs, sculpted posts, header, post covers, and straight or scalloped truss ends, with a custom gutter system. Combined, you have a patio that doesn't bust the budget, but looks like it did. Available with or without screen walls. Thankfully, the answer is now yes, at least when it comes to your patio roof. Available with or without screen walls.
Wondering how to increase the appeal and comfort of your Moderno patio cover? Well, you're in luck, as we have plenty of options, from fully enclosed glass walls to create the perfect four-season sunroom, to screen walls, to custom decorative add-ons and accessories.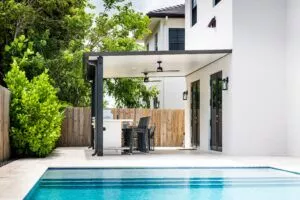 While most customers opt to attach their Contempo roof to their home as an extension of their living space, you have the option of building a completely freestanding structure. This option allows you to locate a large covered living space anywhere in your yard — overlooking mountains, lakes and gardens, or in a secluded corner of your property.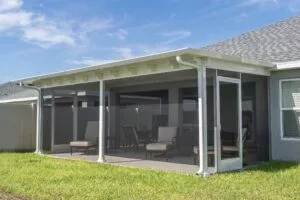 Nothing spoils your enjoyment of your new outdoor paradise quicker than a swarm of mosquitoes. Thankfully, the Contempo is ideally suited to be screened in with the Dolce Screen System. We can even install Dolce without the framing to give you a single, massive screen panel for a wide-open view. Ask your installer about the Dolce Open View screen wall option.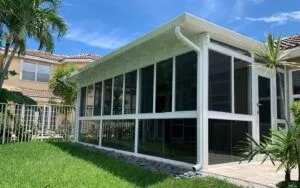 Any Renaissance solid patio roof structure can be installed with full glass walls beneath, turning your patio into a fully air-conditioned and heated four-season sunroom. Our Lumino Sunroom system can even accommodate highly insulated, vinyl-framed, low-E panes, or if you live in a high-wind zone, high impact glass.
The Pros and Cons of the Contempo Patio Cover
Everything in life has its ups and downs, pros and cons, and the Contempo is no exception.
Renaissance Patio connects you with up to three local preferred installers to prepare an estimate for your project.
What is the location of your project?